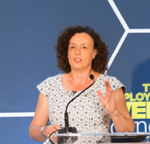 Debi O'Donovan
Director
,
Reward & Employee Benefits Association (reba)
Who is Debi O'Donovan?
Debi has been a director of the Reward & Employee Benefits Association (REBA) since July 2015. REBA is a membership networking community for reward and employee benefits practitioners. It runs networking groups, conferences, data and insight reports as well as distributing information to help REBA members work smarter.
Debi is a well-known and highly-regarded commentator, writer and speaker on reward and employee benefits. She has over 20 years of media experience, including developing and running conferences and developing data-driven research reports.
Her key focus is on overseeing projects to produce great content in digital, print or live environments.